Xenos
Anne Hildyard – saxophone, gajda, zurna, furulya, clarinet, vocals
Rob Bester – davul, kaba gajda, laouto, tuba

Internationally acclaimed, Xenos present a show that is a must to open the hearts and minds of children to another musical realm.
Celebrating the passions of life and the virtuosity of village music; with instruments and songs from past and present, this inspiring group transports us to the Balkans. Their warmth of personality and storytelling place the music into its' cultural context, leaving children's eyes bright, and minds enquiring.
Let Xenos steal your heart and feet – the dance music of the Balkan Roma.
Hands, feet, voice, heart
Wild, beautiful, songs & stories of the Gypsies of Macedonia.
ARIA award nominees Xenos have gathered songs, dances and stories from the Gypsies over much time spent in the Balkans. In a time- honoured tradition, these extraordinary musicians have honed their craft from the Romany people whose music is fundamental to every aspect of their culture. Expand your students' horizons with unusual rhythms, extraordinary instruments, and two superb educators.
Xenos have been bringing their love of music to schools around the world for 15 years.
Xenos travel around to play in schools, but some audiences travel to see us!!
Here are the kids and teachers from Milyakburra, Bickerton Island, who flew in little planes to Groote Island to see Xenos!!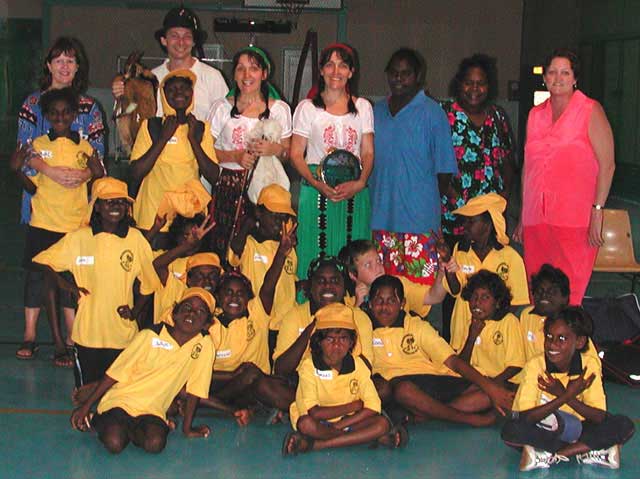 Here are some different recordings of Zajko Kokorajko you might like to listen to;
this very old one is appalling quality, but a great version.
another old one, with gajda.
this is how Xenos played it on our CD ""My Mother Said"
and finally, a new techno version!
download dance instructions for Dhipat and Cocek to dance to "Dere Geliyor" and "Mazo Mazo".
Here is a PDF of Albanian Folk Tales translated by Robert Elsie
Here are some comments about our shows.
Xenos served as cultural attaches of the Swiss Committee for UNICEF 1993 and 1994... presented their programme at various Swiss schools.
The group wholly fulfilled ambitious expectations through their artistic, pedagogic ... didactic expertise. Their enthusiasm quickly charmed the students to create a spirited atmosphere....great confidence and resourcefulness ... a complete success from the very beginning.
Christiane Meier
Education and Development, Swiss Committee for UNICEF
Teachers say;
"A fantastic performance - children were very excited."
" I especially loved the way you included our classes in your show."

kids say;
"Great and excellent songs, dance, music and storytelling. Fantastic. It was really good being your audience. THANKYOU for the great performance."
"Your instruments are wierd."
"I really enjoyed every single minute of the performance."
"I can't get the songs out of my head."
"Please come back to see us again."
"My favourite story was Georgie played the gaida when the teacher left the room."