SONGLINESREVIEW
As the world gets smaller (or at least people and things move around it faster and more widely), then it becomes easier to gain a knowledge of another people's art and culture. And as a result, to explore it as a working musician. Sometimes with the best will in the world all that results is a quick (un)guided tour through a few exotic tunes and gestures. Sometimes, as here, what turns up is a triumph.
Australian-based Xenos, led by twin sisters Anne and Lee Hildyard, have chosen to concentrate on the electrifying music of the Roma of the Balkans, a music that is still rarely known in its original form. All the musicians in the core of the group (they're joined on this disc by guests) have obviously spent a lot of time listening, learning and practising. Anne Hildyard's saxophone is particularly impressive, and both sisters have mastered the vocal sounds and phrasing that are such a feature of this music. A special mention should go to Philip Griffin who is the only non-local guitarist I have ever heard to have grasped the intricate mix of twang and strum that drives the song and dance along.
This is quite splendid, energetic and powerful, and a credit both to the musicians and their collaborators and informants. More please!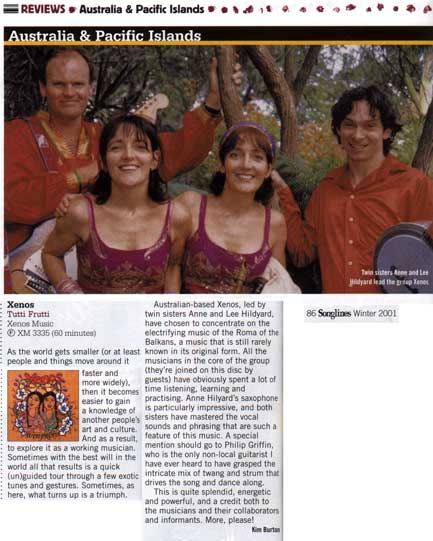 ---
fRoots review
XENOS
Tutti Frutti Xenos Music XM3335
There seems to be a special chthonic link between Australia and the Balkans. What is it that makes apparently ordinary Australians immerse themselves in the musical culture of South-Eastern Europe? It's not exactly a new phenomenon - Mara! - go back to the early 80s. at least. Answers on a postcard please. There's nothing in these CDs to tell us how that happened, although it transpires that Xenos, now based in Melbourne, have their roots in Zurich 0h, well. Xenos are not traditionalists - on this album, with a core of Romany songs from Macedonia, there is electric bass & saxophone as well as gaida and zurna. From the insanely catchy chorus of the first number, they're on to a winner. It's pretty upbeat, fun stuff - I'm sure they'd be great live. Anne Hildyard seems to be master of many obscure instruments, and the whole band are wonderfully relaxedand together as they romp through a wide variety of songs and tunes. www.xenosmusic.com